Meet Our Staff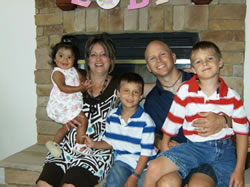 Susie Dix Jividen
Head Occupational Therapist

Susie received her bachelors degree from the Ohio State University in 1985. She has practiced pediatric Occupational Therapy since graduation in a variety of settings including Dayton and Cincinnati Children's Hospitals, nursing care agencies, school settings and private practice. Susie received her training in pediatric neurodevelopmental treatment in 1995. Her interest include infant development, hand skills (casting and splinting), oral-motor and feeding challenges, and sensory dysfunction. Susie has also just competed her REI certification in September 2006.
" I have always had a vision of opening a pediatric clinic, and I knew the right time would come. As I waited patiently, I continued to practice in the private setting while raising two wonderful boys. I am very excited that the time is here! In addition to OT, PT, speech and language therapies, we have the pleasure of offering Sensory Learning as part of our services - this has given new hope to many families and individuals with sensory issues. My hope and prayer is that we can offer families information and services that can help change their lives."

Welcome Home and Happy First Birthday!



Karina Ruth Jividen

Happy Second Birthday!




Karina turned two!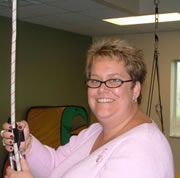 Jennifer Stuart
Occupational Therapy Assistant

Jennifer Stuart comes to us from Cincinnati where she resides with her husband and two small children. She completed her assistant degree in 2001 at Cincinnati State. She began training in home based and school services with Susie in 2002. Jenn has been vital in providing school based services, home based services and individual therapies at the clinic.
Katy Kendall, MA, CCC-SLP
Speech Language Pathologist

Katy began working for us in the summer of 2008. She received her bachelor of arts degree in speech and hearing science from Ohio State University in 2006. She attended the University of Cincinnati where she received her Master of Arts degree in Speech Language Pathology in 2008. She enjoys working in the pediatric population and has experience with a wide range of speech and language disorders including, phonological disorders, articulation, apraxia of speech, Down's syndrome, autism, social groups and auditory processing disorders.